Lookup Jail Inmates, Criminal Records, and Court Records in Mendocino County. Results Include: Bookings, Police & Sheriff Reports, Mugshots, Arrest Date, Charges, Description, Bail Amount, Case #, Level, Bailout, Sentence Date, Sentence Days, Release Date, Personal Description, Arresting Agency.
Looking For A Licensed Bail Bond Agent in Mendocino County?
MENDOCINO COUNTY JAIL Address

Mendocino County Jail
951 LOW GAP RD.
UKIAH, CA
95482
MENDOCINO COUNTY JAIL Statistics

According to the latest jail census:
Average Daily Inmate Population: 283
Inmate Capacity: 295
Year Constructed: 1986
Full-Time Staff: 63
Total Staff Salaries: $6,775,793
Phone:(707) 463-4423
Mendocino County, CA Offense Statistics
Violent Crime
324
Murder and Non-Negligent Manslaughter
5
Rape (revised and legacy definition)
56
Robbery
20
Aggravated Assault
243
Property Crime
451
Burglary
215
Larceny-theft
230
Motor Vehicle Theft
6
Arson
10

Data Source: FBI Uniform Crime Reporting (UCR) Program – Offenses Known to Law Enforcement by Metropolitan and Nonmetropolitan Counties, 2015

Note: The data shown in this table does not reflect county totals but are the number of offenses reported by the sheriff's office or county police department


Monday, December 31st, 2018 at 5:32am
ESCAPE! Nicholas Dunning escaped from Konocti Conservation Camp #27 between 0630 and 0715 hrs., on 12/31/18. He is described as a white male adult, with blond hair, green eyes, 6'2" and 180 pounds
If seen please call 707 994 2437 or LCSO at 707 263 2690. https://t.co/y7RtkB1dY3 https://t.co/MjLIv6cyh5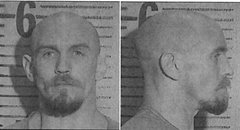 www.facebook.com/MendocinoSheriff
is maintained by the Mendocino County Sheriff's Office (MCSO) Social Media Manager and its only official facebook page. Opinions expressed by visitors to this page do not reflect the opinions of the department. Posted comments will be monitored and the MCSO reserves the right to remove obscenities, off-topic comments, and personal attacks. Any content posted or submitted for posting is subject to public disclosure. When posting a comment make sure your comment is pertinent to the original MCSO post or it will be removed.
Mendocino Sheriff
Friday, January 11th, 2019 at 1:21pm