Lookup Cobb County Inmates and Court Records. Results Include: Arrests, Arrest Circumstances, Location, Charges, Bond, Release Information, Officer, Warrant, Arrest Agency, Physical Description including Tattoos.
Looking For A Licensed Bail Bond Agent in Cobb County?
A 24 Hour Bail Bonding
home 2248 Austell Rd SW, Marietta, GA 30008, USA
phone (770) 434-9665
DO NOT USE THIS COMPANY. The owner called my mother to harass her for more money, stating several lies like I was in Cobb jail, and they couldn't find me so now we owe money. MY CASE IS CLOSED LIAR! And I paid you ON TIME, EVERY TIME! Even went without lights for a week just to make my payments. Also claimed to have to pay for my transport from Fulton. Liar! You need to be arrested harassing elderly women. Why didn't you call me?! I was at work! You are a crook! And God bless.
if you need help fast then go here..... BEST PLACE AROUND!!! i never had to get a bail bond done so when i went i was so lost but Michael handled everything for me. if i could give them 10 stars i would... Thank sp much Michael, this place made my night!!! Besides the professionalism this place is in a great location and very clean!!! Again thanks!!!
My brother was arrested in Cobb county. This wa my first time having to bail someone out of jail. I contacted A24 Ht bail bond and spoke with Ronnie. He made me feel at ease about the situation. I was able to get my brother out fast and I did not have to pay a whole lot of money down. Thanks
I highly recommend this place.
COBB CO SHERIFF'S OFFICE JAIL & PRISON UNIT Address
1825 COUNTY SERVICES PARKWAY
MARIETTA, GA
30008
COBB CO SHERIFF'S OFFICE JAIL & PRISON UNIT Statistics
According to the latest jail census:
Average Daily Inmate Population: 2490
Inmate Capacity: 384
Year Constructed: 2003
Full-Time Staff: 368
Total Staff Salaries: $21,877,493
Cobb County, GA Offense Statistics
Violent Crime
113
Murder and Non-Negligent Manslaughter
0
Rape (revised and legacy definition)
1
Robbery
4
Aggravated Assault
108
Property Crime
34
Burglary
5
Larceny-theft
29
Motor Vehicle Theft
0
Arson
not available

Data Source: FBI Uniform Crime Reporting (UCR) Program – Offenses Known to Law Enforcement by Metropolitan and Nonmetropolitan Counties, 2015

Note: The data shown in this table does not reflect county totals but are the number of offenses reported by the sheriff's office or county police department
Cobb County borders the City of Atlanta to the north and west and is home to over 700,000 residents. We are home to Dobbins Air Reserve Base, Lockheed Martin, Six Flags Over Georgia and Home Depot's Corporate Headquarters.
Cobb County Police Department shared Marietta, Georgia Police Department's post.
Tuesday, August 14th, 2018 at 6:09am
Marietta, Georgia Police Department
Violent suspect accused of kidnapping and sexual assault apprehended Sunday morning after high speed pursuit! At approximately 9:04 Sunday morning a female called Cobb 911 and stated she had been kidnapped, sexually assaulted and that the suspect had just stolen her van and driven away. The caller had locked herself inside a bathroom at 455 South Marietta Parkway. KUDOS to Cobb County 911 for the quick description of the stolen vehicle! Marietta Officers located it traveling Eastbound on South Marietta Parkway near Cobb Parkway South a short time later. Marietta Officers pursued the suspect and attempted to conduct a traffic stop. The driver of the stolen van refused to stop and began driving away from the Officers at a high rate of speed. The suspect turned onto Cobb Parkway South and then Westbound onto South Cobb Drive. During the pursuit, the suspect navigated the van into oncoming traffic, traveling on the wrong side of the divided section of South Cobb Drive. Other responding Officers were able to resume the pursuit a short time later, at which point the suspect driver attempted to run the stolen van into their marked police vehicles as well as other civilian vehicles traveling in the area. The pursuit ended on South Cobb Drive between Fairground Street and Atlanta Road when the suspect swerved the stolen van into another civilian vehicle causing a serious auto accident. The final accident occurred in Cobb County Police jurisdiction. Cobb Selective Traffic Enforcement Program (STEP) was notified and worked the auto accident. The drivers of both vehicles involved in the accident were transported to Kennestone Hospital with non life-threatening injuries. Both were later released. The driver of the van, 27 year old Andrew Head of Marietta is now booked into Cobb Adult Detention Center facing the following charges: Robbery by Force (F), Kidnapping (F), Three counts of Rape (F), Fleeing / Attempting to Elude (F), Driving, Improper lane change (M) and Two counts of Aggravated Assault on an Officer (M). Additional traffic charges and information related to the collision on South Cobb Drive will be provided by the Cobb County Police Department STEP unit once their preliminary investigation is completed. Our thoughts and prayers go out to the driver of the vehicle the suspect crashed into. We wish crimes like this never occurred, but are thankful this violent suspect is now in custody and unable to hurt anyone else. Special thanks to Cobb County PD and Cobb 911 for their assistance with the incident and the investigtion!
#teamwork
Tuesday, August 14th, 2018 at 10:54am
What's the time? Not time to get ill! Unless you forget to bring in your goodies from your car and lock up your home's doors and windows. Your friendly neighborhood #9pmReminder is here to help. Bring it in, lock it up, and stay safe.
Tuesday, August 14th, 2018 at 6:29am
Mary "Sister" Hood and Alex Taylor presented the Cobb County Police Department with a $500+ donation that will outfit our K9 unit with Narcan. Ms. Hood's selfless donation is greatly appreciated by CCPD and our canine partners! #weloveourcanines #communitiespullingtogether https://t.co/0tWOPbmJWs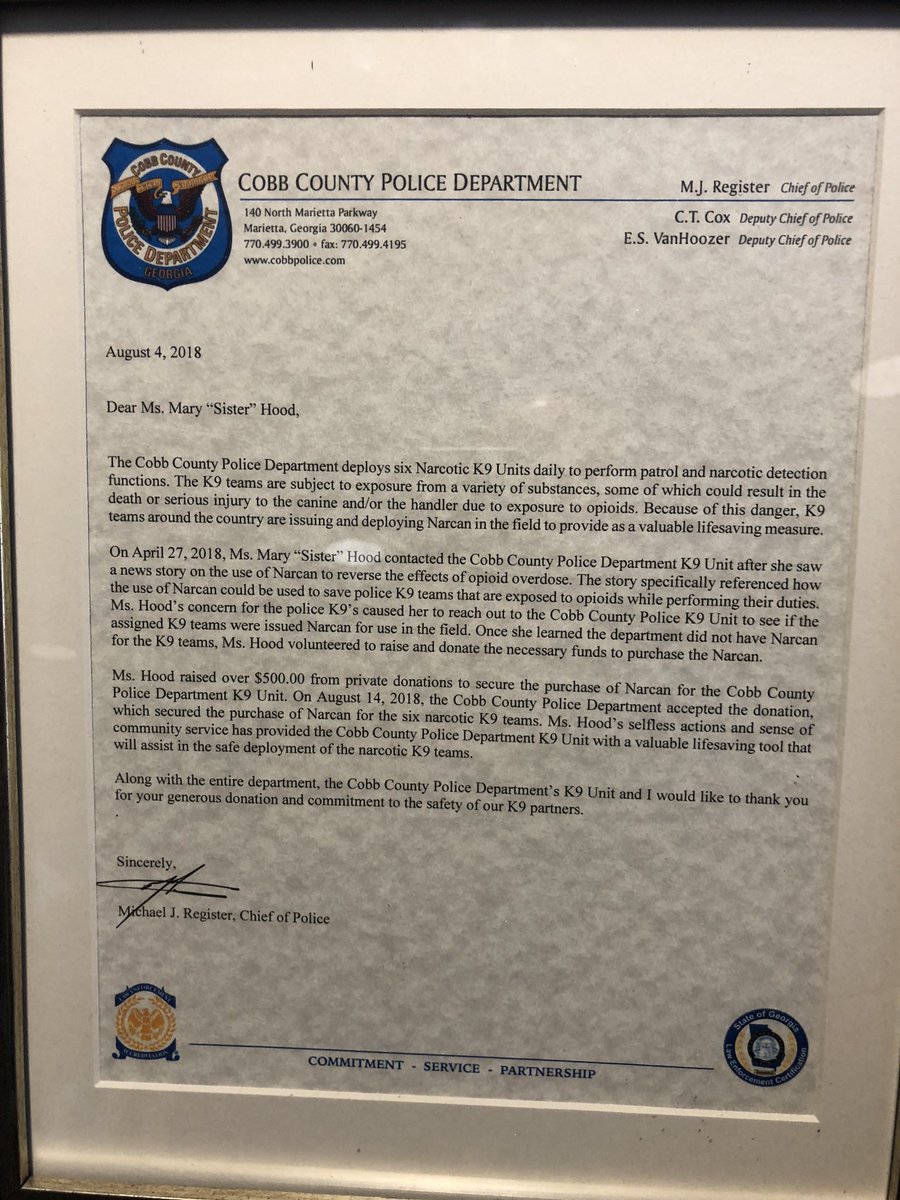 Monday, August 13th, 2018 at 10:58am
Do you know what time it is? It's time for your #9pmReminder to get your goods out of your car and lock up those windows and doors. Don't make it any easier for thieves to get their hands on your possessions. Keep it safe, folks.
Monday, August 13th, 2018 at 5:21am
Bring the whole family for this fun event!!! Come explore! Sept 8th at 10am-3:30pm! Located at Town Center Mall (Lower parking lot by Sears)
#funtimes #learn #explore #safetyisfun #somanytrucks #comemakememories #cobbcounty #community https://t.co/msnGavmazZ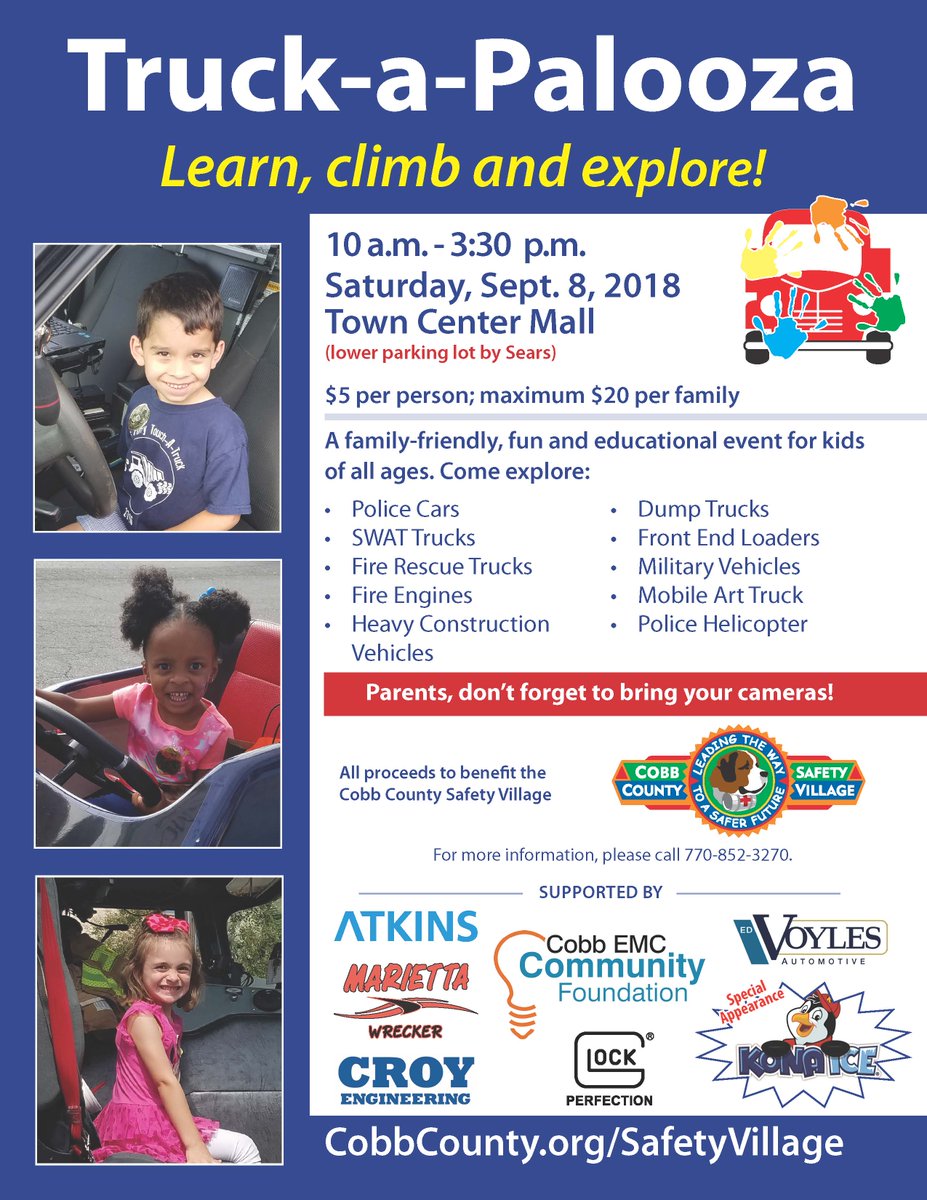 Sunday, August 12th, 2018 at 10:17pm
Want to add an adorable furry friend to your family? Then please take advantage of our August adoption event! Come see our furry pals at Cobb County Animal Services, and give them a forever home! https://t.co/qfA2gP0Wir