Lookup Criminal and Arrest Records in Larimer County. Results Include: Charges, Booking Date, Arresting Agency, Booking Number, DOB, Physical Description, Bond Amount, Fine, Release Date, Count Date, Docket #, Warrant Agency.
Looking For A Licensed Bail Bond Agent in Larimer County?
All Day All Night Bail Bonds - Larimer County
home 155 E Boardwalk Dr #547, Fort Collins, CO 80525, USA
phone (970) 221-3200
Couldn't have been more pleased with the help I received. Will highly recommend them. Thanks Rhonda for all your patience and help
Cynthia and the staff helped me and my family get through a very stressful and emotional time helping us to help a family member who was in trouble and even though we were emotional you and the staff remained professional while holding our hands through this personal and tough situation. We humbly appreciate everthing you've all done for us.
Great company, Thanks for your help Vonshay
LARIMER COUNTY DETENTION CENTER Address

Larimer County Jail
2405 MIDPOINT DRIVE
FORT COLLINS, CO
80525
LARIMER COUNTY DETENTION CENTER Statistics

According to the latest jail census:
Average Daily Inmate Population: 514
Inmate Capacity: 459
Year Constructed: 1983
Full-Time Staff: 198
Total Staff Salaries: unknown
Phone:(970) 498-5200
Larimer County, CO Offense Statistics
Violent Crime
168
Murder and Non-Negligent Manslaughter
3
Rape (revised and legacy definition)
32
Robbery
8
Aggravated Assault
125
Property Crime
1,035
Burglary
204
Larceny-theft
729
Motor Vehicle Theft
102
Arson
10

Data Source: FBI Uniform Crime Reporting (UCR) Program – Offenses Known to Law Enforcement by Metropolitan and Nonmetropolitan Counties, 2015

Note: The data shown in this table does not reflect county totals but are the number of offenses reported by the sheriff's office or county police department
Wednesday, September 20th, 2017 at 10:38am
The LCSO Citizens Academy is hanging out with the K9 Unit tonight! https://t.co/CGvfUfPZj6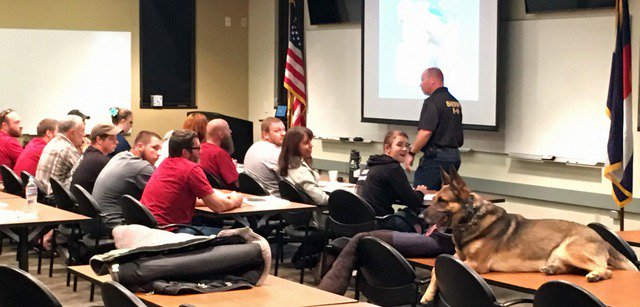 We hope this site will be a reliable resource for information regarding news, crime prevention tips, programs, and services of the Larimer County Sheriff's Office. The opinions expressed by visitors on any page or pages of this site do not reflect the opinions of the Larimer County Sheriff's Office. Please keep in mind that posted comments are monitored and LCSO reserves the right to remove inappropriate or offensive content. Terms of use for posting comments on this page: We welcome comments. Comments are to be related to the Larimer County Sheriff's Office subject matter for inclusion. Thanks.
Larimer County Sheriff's Office shared U.S. Forest Service-Arapaho & Roosevelt Natl Forests Pawnee Natl Grassland's post.
Monday, September 11th, 2017 at 2:06pm
U.S. Forest Service-Arapaho & Roosevelt Natl Forests Pawnee Natl Grassland
Lightning caused Starwood 2 fire reported at approximately 4 pm today near Larimer County roads # 80C and 59 near Millcreek on US Forest Service land. Size approximately 2 acres. Federal, state, aerial, Larimer county and Livermore VFD are on-site. No evacuations, road closures at this time and no structures immediately threatened.